Sir John Hawkins Square, High Court Appeal case could prevent councils from renaming road names.
An entrepreneur who took his local council to court in regards to changing the name of a local square; believes that his case could create case law at the high court which could prevent any local authority from changing or renaming the name of roads or streets.
The Judgement on 4th December by DJ Matson in Plymouth Magistrates is now being appealed by Plymouth based entrepreneur Danny Bamping who brought the case against Plymouth City Council last summer. The Council had requested an order to rename the Square to Jack Leslie Square – after Plymouth Argyles 4th highest goal scorer.
Plymouth Magistrates Court has now confirmed that the Judge will state a case for the High Court to consider.
Mr Bamping's posed 7 questions of appeal to the magistrate's court; one of them was in direct relation to the wording of 'Alter' and 'Alteration' – which is the wording within the Section 18 of the Public Health Act 1925. The high court will have to decide if that wording allows councils and local authorities to 'change' and 'rename' roads and streets; even though those words do not appear anywhere within the legislation.
Another point of appeal is focused on the fact that Plymouth City Council actually removed the signs of Sir John Hawkins Square on June 9th 2020 – as the council claimed that BLM supporters had threatened to vandalise them. Yet under the legislation Section 8 of the PHA 1925 clear states that;
Section 8 – Appeals to Court against a Notice
(3) No proceeding shall be taken by the local authority, or work executed, until after the determination or abandonment of the appeal;
Mr Bamping stated.
"This is the result of the Councils knee jerk reaction to the BLM protests last year; they are merely trying to replace the name of a perceived racist; with the name of a perceived victim of racism. Its one of the worst cases of wokeness and shows how the local authority have ignored the people of Plymouth, ignored the law, the legal process and their own policies. It's something that they took less than a week to do. The fact they put the Sir John Hawkins Square signs in the Box (Museum) and cannot now locate them – tells you everything you need to know about their intentions."
Furthermore; Mr Bamping's other points of appeals include challenging the council on the fact they failed to evidence their decision to change the name of the Square at all within the bundle filed by the council; they failed to follow their policy on street names and that other key evidence had been mis-interpretated and mis-applied by the court.
In the meantime; Mr Bamping also claims that the council's removal of the signs of Sir John Hawkins Square was unlawful and is a breach of the council's public statutory duties under Section 19 of the PHA 1925 and that without lawful excuse is a criminal offence and finable of around £60 on a daily basis.
Mr Bamping has made a film about this on his YouTube Channel The Public Detective. The signs were removed over 200 days ago and under the authorisation of Giles Perritt Plymouth City Councils assistant chief executive.
https://www.youtube.com/watch?v=7mynkVEjx9U&ab_channel=PublicDetective
In the meantime; the road which the Life Centre and Home Park (Argyles Football ground) remains unadopted; unmaintained and un-named.
The Jack Leslie statue campaign raised over £150,000 to have a statue outside the football ground and currently the road is a hazard and heavily used and does not have a name.
Mr Bamping says he will now work closely with local Peverell ward councillors to ensure now that the road becomes re-adopted by the council and properly maintained and that the people of Plymouth have a say in giving that road a name; along with stake holders; which include Simon Hallett from PAFC.
So far Mr Bamping has raised over £2,000 via his High Court appeal fund:
https://www.crowdfunder.co.uk/sir-john-hawkins-square-high-court-appeal-funds
The Public Health Act 1925
https://www.legislation.gov.uk/ukpga/Geo5/15-16/71
IN THE PLYMOUTH MAGISTRATES COURT
Case No: 502000171288
APPLICATION TO MAGISTRATES' COURT TO STATE A CASE FOR AN APPEAL TO THE HIGH COURT PURSUANT TO SECTION 111 OF THE MAGISTRATES COURTS ACT 1980
IN THE MATTER OF AN APPEAL UNDER s.18 OF THE ACT OF THE INTENTION OF PLYMOUTH CITY COUNCIL TO RENAME SIR JOHN HAWKINS SQUARE TO JACK LESLIE SQUARE.
IN RELATION TO THE DECISIONS OF DJ J. MATSON FOLLOWING A HEARING HELD ON THE 13TH OF NOVEMBER IN PLYMOUTH MAGISTRATES COURT; AND THE FOLLOWING JUDGEMENT HANDED DOWN ON THE 4th DECEMBER & COSTS ORDER MADE ON 13TH JANUARY 2021.
1 st February 2021
MR D BAMPING
Applicant
And
PLYMOUTH CITY COUNCIL
Respondent
Please find enclosed a copy of an application to state a case for the opinion of the High Court directed to District Judge J Matson sitting at Plymouth Magistrates' Court on 13th November 2020 regarding her decisions to refuse an appeal made by a local resident under section 18 of the Public Health Act 1925 heard and made subject to judgement refusing the appeal and then imposing costs upon the appellant.
This application to state a case for the opinion of the High Court follows the final decision and direction of the Court and issued on 13th January 2021 as to the final disposal of the case and the order for the Appellant to pay costs. (some £8,302.44)
The applicant submits that, given the legislative framework of the Public Health Act 1925 a case stated should be stated arising from the decision as to whether the District Judge was correct in law to conclude that the street was in fact legally re-named by Plymouth City Council in its capacity as a competent public authority, as constituted under the Local Government Act 1972.
Further admissible evidence upon which the Court was required to have before it and the failure to comply with section 41 of the Local Government (Miscellaneous Provisions) Act 1976 was not available at the hearing, with the result that there was no admissible evidence before the court that establish the authority had validly taken the action of re-naming the street or issued the relevant order.
On the 4th of December 2020, DJ J Matson handed down her judgement in relation to the decision of Plymouth City Council to rename Sir Hawkins Square to Jack Leslie Square. DJ Matson stated in her judgement and in response to the appeal, that the decision by Plymouth City council was not wrong, not racist and not contrary to their own published procedures or national guidance related to the matter.
DJ Matson also rejected the argument that the Local Authority did not have the power to 'rename' or 'change' a street name when Parliament clearly and evidently only gave them, purely the power to 'Alter' existing street names, which is precisely what the legislation states.
The matter was adjudicated under the Section 18 of the Public Health Act 1925 with reference to the case Basildon Borough Council v James [2015] EWHC 3365 (Admin) (26 November 2015). It is interesting and should be noted that the above case law is the only case in this area of legislation and that no one in 96 years has challenged the point of law that Alteration or Alter clearly does not mean change or rename.
If in 1925 Parliament intended for local authorities to have the power to change or rename an existing road; then in section 18 of the act, it would state that, but it doesn't. It is clear that we need certainty with our road and street names; hence that is the reason the legislation states alter because once a road is named; it cannot be changed or renamed, only altered.
Question(s) for the opinion of the High Court. The applicant requests that the District Judge states a case for the opinion of the High Court on the following questions:
On what basis in law did the Judge sitting on 13 November 2020 determine that section 18 of the Public Health Act 1925 permitted the local authority to re-naming of a street whereas the Act makes specific provision only to 'alter' an existing street name, the specific power to apply one arising only where 'where a name has not been given'? The Public Health Act 1925 Section 18 states; "The urban authority by order may alter the name of any street, or part of a street, or may assign a name to any street, or part of a street, to which a name has not been given."
On what basis in law did the Judge conclude that the provisions of section 41 of the Local Government (Miscellaneous Provisions) Act 1976 had been fulfilled in the respondent's evidence before the Court to establish that a competent resolution of the authority had actually been passed or approved?
On what evidence did the Judge sitting on 13 November 2020 conclude and rely upon that the Local Authority as an elected body had properly authorised by way of a valid resolution or decision the change of a street name as was challenged and put to strict proof by the Appellant?
On what basis in law was the statement that a Cllr Lowry (who was not called as a witness and did not provide a witness statement) that on the 18th of June 2020 he had made the decision to rename the road 'Jack Leslie Square' admissible as evidence and not excluded by the rule against hearsay?
On what basis in law, did the Judge conclude that the selection of a deceased individual for purposes of street renaming, based on their racial identity was in accordance with the position, policy and guidance set out in the Plymouth Council policy document "Street naming and numbering process 2018"?
On what basis in law did the Judge accept the evidence of Jane Hirons and Councillor Chris Penberthy that the witnesses answered in the affirmative; in regards to the question asked to whether Jack Leslie was used related to the colour of his skin. Yet both responded that they did not know or were not sure whether he was selected because of the colour of his skin. Contrary to what was recorded and heard in court by several witnesses, DJ Matson stated the opposite, and that the witnesses both stated that he would still have been chosen irrespective of skin colour?
On what basis in law did the DJ allow the respondent's continued failure to comply with Section 8 (3) by removing the Sir John Hawkins Square street signs; which is actually clearly wrong in law, in breach of the alteration of a street name process, this appeal process and therefore fatal to their case by the fact they have also provided a false and misleading position statement?
IN THE PLYMOUTH MAGISTRATES COURT                     Case No: 502000171288
IN THE MATTER OF
AN APPEAL UNDER s.8 PUBLIC HEALTH ACT 1925
AGAINST A NOTICE UNDER s.18 OF THE ACT OF THE INTENTION OF PLYMOUTH CITY COUNCIL TO RENAME SIR JOHN HAWKINS SQUARE
MR D BAMPING
Appellant
-and-
PLYMOUTH CITY COUNCIL
Respondent
                                                  Wednesday November 4th 2020
Skeleton Argument
1 – Section 18 – 1925 Public Health Act clearly states:
(1) The urban authority by order may alter the name of any street, or part of a street, or may assign a name to any street, or part of a street, to which a name has not been given.
The 1925 Public Health Act as stated permits the Local Authority to alter the name of any street or part of a street. The Oxford Dictionary [1] defines 'alter' as "Change in character, characteristics, position; castrate or spay". It is clear therefore that the proposition to 'change' the name Sir John Hawkins Square into Jack Lesley Square would be a change and not an alteration.
Parliamentary sovereignty is given authority by way of legislative interpretation.
The literal rule should be the first rule applied by judges. Under the literal rule, the words of the statute are given their natural or ordinary meaning and applied without the judge seeking to put a gloss on the words or seek to make sense of the statute.
The doctrine of separation of powers, prohibits the Judiciary from exercising statutory
interpretation of legislation, unless the outcome would produce a manifest absurdity. The word 'alter' gives powers to the local authority to "to make different without changing into something else"[2] One such example which would be permitted would be changing 'Sir John Hawkins Square" to "Hawkins Square" which removes the notable title bestowed upon the individual. To replace one name with another would patently be 'changing' the name of the street and beyond the power given by Parliament to alter.
The choice of wording for statutes are carefully scrutinised and drafted for Parliamentary approval. In 1925 the word 'change' was of common parlance and patently should the legislator intended to extend this power to local authority, the word 'change[3]' would have been utilised. It wasn't, the legislator gave the power to 'Alter' and only alter.
From the wording of Parliamentary language used in Section 18 – 1925 Public Health Act it is clear that a conservative approach to naming of streets was intended. This conservative approach provides certainty in the naming of streets and provides stability once named, ensuring continuity for public, cartography & postal services. By permitting alter(ations) within the act, Parliament left open the possibility to alter road names by way of local authority order, in situations whereby for example a street had been incorrectly named.
In the legal notice the word 'Alter' is correctly used. However following this the language used by the local authority in communications has been variously; 're-name' or 'change'[4]. A clear example that the word 'Alter' does not fit with the proposed actions of the local authority.
(1.7) – Jane Hirons (Property and terrier team leader) in evidence (JH5) – email dated 17/6/2020 states the following;
"In accordance with the Public Health Act 1925, official notices proposing the renaming have been drawn up and will be displayed on the road for 21 days."
The Act gives no such power to rename as claimed. In claiming so, Jane Hiron's has overstated the legal power of the local authority. In Jane Hiron's statement provided to the case, the word 'rename' or 'renaming' is used 19 times, and the word alter was used on zero occasions.
It is clear the local authority believes it has the legal power under the Act to 'rename', it doesn't not, its power is to 'alter'. Renaming is not a power granted by Parliament. For the avoidance of any doubt; his application is ultravirus as they do not have the power to do it.
(1.8) – For these reasons the application by Plymouth City Council to rename 'Sir John Hawkins Square' to 'Jack Lesley Square' must be rejected. It is an ultra-virus act by the local authority being beyond the powers given to them by Parliament.
2 – The Councils Legal Notice – was a Nullity
95% of the letters sent to the Court were 'rejected' – due to their wording – after following the guidelines from PCC and the notice itself.
In the legal notice the word 'Alter' is used.
After that in all other communications the Council use the words 'Change' – or 'Rename'.
The Council could alter Sir John Hawkins Square so that it read – Hawkins Square. This would be an alteration. However, it cannot change it to Sir Jack Leslie Square, as this would be changing it and the legislation does not permit this.
There has been a clear Data Protection Breach in regards to the 50+ letters as they are forwarded less than a week after the deadline by the Court to the Council; this data breach has also clearly prejudiced the case.
3 – The Councils request for an order is flawed because:
This request for an order could arguably be considered racist. The Councils own policy and indeed government guidelines state that it 'must not be or considered to be racist'. The Council abusing the legacy of Jack Leslie as a symbol of revisionist ideology has racist undertones by connecting him to his deplorable slave trade. Jack Leslie's legacy is football and his connection to Plymouth Argyle's Home Park stadium. It would be a much more rational, logical and fitting legacy to have the unnamed road next to Home Park be given the name 'Jack Leslie Way' to ensure that the correct street in Plymouth is named after him and he is commemorated in the most appropriate way.
2 The Councils request for an order clearly does not have the full permission of the Jack Leslie family and Kerry Greenaway needs to evidence to the Court that she is a 'great niece' of Jack Leslie and has the authority to speak on behalf of 'all the family' and that she did indeed convey the information and received confirmed responses to do so, in just under 6 hours.
3 A serious Omission and error in the councils email to the niece of Jack Leslie as they failed to inform the family of the full circumstances of the proposed namely that;
That the proposal was 'renaming' not 'naming' as suggested.
That it goes against government guidelines to name a street after a person.
The one line response from the family indicates that they would grant permission for a Street named after Jack Leslie…it does NOT grant permission for the Council to 'rename' a 'Square' – after him.
Thus, inadvertently the Family of Jack Leslie has granted PCC permission to name – the unnamed 'Street/Road' – behind the life centre and next to Home Park – Jack Leslie Way.
Naming a Street after a 'Person' is against recent Government guidelines in regards to local councils naming roads; which make it clear it should not be due to historical problems, countrywide.
It is clear that the respondent has not learned this in relation to the problems they had with Howeson Lane.
No Democracy in regards to the decision. This is evidence by the way the Current administration applied to the Court, before any debate or consideration of Councillor Nick Kelly's Motion (see Chronology)
No (logical) reasoning or proper consideration behind this decision. The current administration were on a mission to try and appease the woke minority of BLM supporters by renaming a 'Square' after a black footballer rather than a Queen appointed legal slave trader – who was with his Cousin Sir Francis Drake on every trading voyage.
It is irrational in its location. No one at any stage looked at Google Earth, because if they had then like me they would have found that there is an un-adopted; unnamed road; right next to Home Park. This is actually a Street and the Leslie family have already granted permission for it, to PCC as per their 1 line email.
It is the legitimate expectation of taxpayers and electors that decisions will be made in accordance with statutory powers; but not exceed them.
Ultimately the 1925 Act (section 18) does not give PCC permission to Change the name of the Square only to Alter it. Therefore, the respondent's request for an order is ultravirus and like the legal notice a
In summary the Councils application is fundamentally flawed because it;
Is irrational
Does not follow the Councils or Governments published guidance
Does not follow the Law
[1]   Concise Oxford Dictionary – OUP 1964-1976 – Thirteenth Impression 1982
[2]    https://www.merriam-webster.com/dictionary/alter?utm_campaign=sd&utm_medium=serp&utm_source=jsonld
[3]  Definition of Change – "To take or use another, to give up or get rid of, make different, to go from one to another; Become different, arrive at a fresh phase, become new"
Concise Oxford Dictionary – OUP 1964-1976 – Thirteenth Impression 1982
[4] Council leader Tudor Evans OBE said: "We listened to those who found the relatively recent naming of the square after Hawkins offensive and are changing it. We've had a number of potential new names put forward and feel that naming the square after Jack Leslie would be very appropriate given his pioneering role as a black player in English football. Source:
https://www.plymouth.gov.uk/newsroom/pressreleases/citycouncilproposesnamingcitysquareafterplymouthargylepioneer
Wednesday 23rd September 2020
Re: Sir John Hawkins Square renaming
Open and public letter addressed to:
Jack Leslie's daughter Evelyn Morris-Davies, granddaughters Lesley, Lyn and Gillian, great-nieces Kelly, Kerry, Lucy and the Gillick (nee Leslie) family and his great-nephew George Connett.
Dear Evelyn and the wider family of Jack Leslie,
I am writing to you all, in order to make you aware of the current 'updated' situation with the renaming of Sir John Hawkins Square – to Jack Leslie Square.
It seems that in its rush to push this through; Plymouth City Council have made some serious errors and also missed a golden opportunity, which I want to make you all aware of.
The road which Plymouth Argyle's football ground is on; (just off Outland road) is currently unnamed and has been like that for over 11 years; due to the planning permission given for the nearby currently closed Life centre.
This road is where thousands of Plymouth Argyle fans have to walk to get to Home Park…it is the road where the statue of Jack Leslie will be erected in the near future and will stand proud. I have now put forward the idea to the council to call this road – Jack Leslie Way, and they have confirmed that they have started the process to consider this further.
Indeed, there is no requirement for a court hearing as the road is unnamed and if approved it will enable Plymouth Argyle FC to use 'Jack Leslie Way' in their postal address. Ensuring his legacy is kept in perfect context with the football club and that area of the city.
However, due to the fact the council have already applied to the Court to change the name of Sir John Hawkins Square; they are stating that they cannot approach you (the family of Jack Leslie) with this 'more fitting tribute', until the court application has been decided. The full hearing is now due to be heard on Friday 13th November 2020 at Plymouth Magistrates Court in front of a District Judge.
Yet if the Council's Court application is approved; they will never approach you with this idea…because another road/area of the city – The Square (miles away from Home Park) will be then named after Jack Leslie. Yet if they lose their application; they will then immediately approach you. The situation is rather frustrating, stupid and sad.
In order to avoid all this unnecessary Court nonsense all that is required is for you and your family to send one email to one member of Plymouth City Council. In this email removing the consent given to them for the renaming of the square (only given by his Great Niece Kelly Greenaway) and also perhaps maybe in the same email giving the Council the full consent of the family in naming the unnamed road Home Park is actually on after Jack Leslie.
This would then immediately end their court application and save time and public money; whilst ensuring that the Jack Leslie name is where it is supposed to be. It would be also logical if Jack's great niece – Kelly Greenaway could send the email to Jane Hirons at Plymouth City Council as this completely would reverse the only thing they have.
I have attempted to contact you previously through the brilliant guys at the Jack Leslie campaign (Greg & Matt) and they responded to me saying they had passed on my previous email and that the response was –'The family didn't want to get involved'.
I do not believe this shows the full consent required from the family for the renaming of the square; However, I am pretty sure the family would give their full consent to the naming of the unnamed road which Home Park is on after Jack Leslie.
It would be a massive shame if the council were to win in court and then that decision be judicially reviewed at the high court; meaning further press coverage and delays and meaning the good name of Jack Leslie is again attracting unwanted focus from the media for the wrong reasons.
Jack Leslie Way; is where his statue will stand with pride and where Plymouth Argyle is based, it is clearly much more fitting, logical option and something which I believe his family would much prefer to happen and hence my letter to make you aware of it.
Yours Sincerely
Danny Bamping
Serial Global Social Entrepreneur
www.dannybamping.com T: 00 44 (0)1752 251153 M: 07831 658492
Email: danny@noparty.co Skype: Wonderboy23 Twitter: @MrCrazee
PS – Jane.Hirons@plymouth.gov.uk
Wednesday 9th September 2020
Re: Case: 502000171288 – Re: Sir John Hawkins Square renaming
Re: Case Management hearing – Friday 10am September 11th 2020
FAO – The District Judge
I have already submitted in writing an earlier communication to the court manager in respect of requesting leave of the court to film/record the procedure. The event is listed on Friday 9th September at 10am in the morning where upon my application to have the council's application struck out on the basis that it is void and a nullity should be heard.
With the over-riding objective firmly in mind and to assist the court in considering those applications, I felt it would be logical and reasonable to outline my position clearly. I will ensure the council also have a copy of this notice as soon as possible.
For the avoidance of any doubt I would like to remind the court that I am not representing myself in this matter in anyway; I am here on behalf of the large majority of the people in Plymouth. I am here on behalf of the 60 + people who wrote to the court objecting/appealing against this flawed application by the council.
This matter is in the public interest and I trust that the court will recognise this by not awarding costs against me personally; whatever the outcome. This application by the council should be immediately struck out by the Court; as it is Void for the following reasons:
1 – The Council have breached their own policy on street naming; as no road name must be considered or viewed as 'racist'. The only reason; Jack Leslie has been chosen to replace Sir John Hawkins as the name of the Square; is due to the colour of his skin (mixed race). This is by definition – racist. The large majority of people see this application as a 'woke political stunt' purely in an attempt to replace the name of a Slave Trader with a Black man.
The involvement in the prolific slave trade is far from defining in Sir John Hawkins life.
2 – The Council have broken their constitution and trust with the people of Plymouth due to the fact there was no democratic debate at all; either with the people or with other local councillors. They intentionally shut down any proper debate as to any other proposed names for the square; as they had already made their decision and had already applied to the court.
The timeline that will be provided to the court shows that the council applied before it was even debated at the full council meeting on the 22nd June. Therefore, if Cllr Nick Kelly's very reasonable motion was supported at that meeting they would have been forced by default to retract their already void application.
3 – The Council have applied zero logical reasoning in making this knee-jerk reaction decision to try and appease a small minority of #BlackLivesMatters supporters who run a business within Sir John Hawkins square itself.
This is illustrated by the fact the council now have to properly consider naming a currently un-named road (behind the life centre and where Home Park stadium is) after Jack Leslie. They have to do this because I have now formally put the idea forward. No checks for a suitable road to commemorate Jack Leslie were performed before making their application. Jack Leslie and PAFC have no place or context in the square or this historic area of the city; and they have ignored a much better option which is preferred by the majority of the city, the Jack Leslie family, PAFC and anyone with a modicum of common sense.
4 – The Council are in further breach of their policy covered by this application as they have failed to ensure they have got 'proper and full permission' from Jack Leslie's family. Instead they have only contacted one 'distant relative' in writing (via email) and within hours of receiving a positive response, their application was filed.
However, there are several other, closer members of Jack Leslie's family that have not been consulted or asked and they have now indicated in writing that; "We don't want to get involved." Which were almost identical to the words that also came from the CEO of PAFC; as they were not approached or consulted by the council in this matter either? It is clear that one could easily argue that Jack Leslie is a member of Plymouth Argyle's 'family' in the context of this application.
Now that a road has been identified that is not named and puts into logical context Jack Leslies association with Plymouth and the local football club. This process does not require a court order to do and can be immediately, appropriately named 'Jack Leslie Way'.  This is where his forthcoming statue will stand with pride and his name becomes embedded into Plymouth Argyle Football club's postal address, a fitting tribute to his legacy with the club.
5 – The Council have failed to also realise that they are in clear breach of the local government guidelines which were published in 2017. These state that local councils should not name roads after people. I believe a lot of lessons were learned by Yorkshire based Councils with the Jimmy Saville scandal and PCC have already had to re-name Howeson lane in Derriford due to very similar reasoning. An article about it can be read here:
https://www.independent.co.uk/news/uk/home-news/street-names-jimmy-savile-paedophile-local-heroes-council-guidance-a7587051.html
Obviously, there are some exceptions to the rule; the un-named road next to Home Park mentioned above in point 4 clearly is possibly one of them. However; that still does not change the fact that the council's application currently before this court is in breach of those guidelines and therefore should not even be considered for listing for a full hearing.
6 – The Council have failed to follow the due process; by the pure fact their legal notice published online and displayed in the square for 21 days after their application was filed, was incorrect and therefore void and a nullity. Thus nothing after the publishing of that notice can have any legal effect.
This is a clear fundamental defect in the proceedings and the due process was not followed. The legal notice is clearly void and if an act of a due process is void; then it is in law a nullity. There are a variety of historic case laws of authority to support his position.
Indeed the court has already acknowledged in writing to me that this legal notice was 'not correct' and the clear prima facia evidence of this is the fact that over 60 people wrote in to object (as per the councils notice) however; only 2 of these were properly worded as to Appeal under the 1925 legislation under which this matter falls. I was clearly one of those and the only one of the two, to pay the £60 fee.
The council failed to mention that there was a fee involved or that anyone appealing could be made liable for the council's costs, should their appeal be unsuccessful.
I have requested copies of these 60 + letters via FoI from HMCTS and PCC but as yet they have not materialised; yet both have confirmed that they have copies.
Suggested remedy and draft order for the courts consideration.
As this is a civil, administrative matter and not held under any CPR rules; with the interests of Justice and the overriding interests in mind I am suggesting to the court to make the following order.
Mr Bamping's application to the court to appeal and strike out the council's application to rename Sir John Hawkins Square is upheld and granted.
2.Plymouth City Council to replace the Sir John Hawkins Square signs removed from the square without notice or permission; to be immediately replaced; perhaps with more longer term fixtures as the current wooden ones are worn due to the fact they have been there for over 37 years.
This includes the sign removed from the side of this HMCTS Public Court building.
3. Mr Bamping's, £60 appeal application fee to be awarded as costs and to be paid by Plymouth City Council.
Monday 17th August 2020
Re: Case: 502000171288 – Re: Sir John Hawkins Square renaming
Re: Case Management hearing – Friday 10am September 11th 2020
Re: Offer of Alternative Dispute Resolution meeting to resolve matters before court
FAO / Linda Torney,
Solicitor / Legal department, Plymouth City Council
Dear Linda,
I am contacting yourself and Plymouth City Council to offer the opportunity for an ADR meeting before the hearing at the magistrate's court, which is now listed for Friday the 11th of September.  I understand the council received its summons just over a week ago.
I would like to discuss possible options, as I believe that I have found a potential solution that could provide a remedy for all 5 parties currently involved.
1 – Plymouth City Council – obviously because you (they) started all this.
2 – Plymouth Argyle Football Club – obviously…
3 – The family of the PAFC legendary footballer – Jack Leslie
4 – Plymouth Magistrates court – not only for the hearing itself, but the Sir John Hawkins Square sign is on their building as the Square is behind the court.
5 – Me, representing the majority of people in Plymouth who are against this proposal.
Basically, the 'remedy' is this; Plymouth City Council agrees to re-adopt what was called Gilbert Lane – up until 2009, resurface this road and call it 'Jack Leslie Way' (or lane/road)
This road is directly behind the (closed) Life centre, and is right next to Home Park it is an un-adopted / extinguished road; which previously up until 2009 was called Gilbert Lane.
This road is actually the access road to Plymouth Argyle's ground; which is off Outland road, it also has 2 bus stops on it; is the only access to the councils operational 'milehouse carpark', and after 11 years of neglect it frankly looks a mess and needs re-surfacing. If you look on a map it is almost a half-circle road – connecting Outland road both ends.
It is also the immediate left turn once you have turned into The Life Centre – and that road is called Mayflower Drive. No doubt this was aptly named after the Mayflower centre that was once there; which puts it into 'context'.
This road is no longer included within PCC's liability of a maintained road by the council; and is now – unnamed. See the below links from PCC's website that confirms this.
https://www.plymouth.gov.uk/sites/default/files/HRJAN2020.pdf – Page 138 of 373
About half way down on that page is the crossed out entry for Gilbert Lane. I have also included an old 1973 map of the area which shows this road, named as Gilbert Lane.
I believe that this is a very logical, reasonable and fitting solution to this issue. It would be the perfect legacy to Jack Leslie. At the same time it would enable Plymouth Argyle to have its postal address with his name on it. If Mr Leslie where alive today; which would he prefer?
Option 1 – Having his name attached to a currently unnamed road which Home Park is on; and is right outside the ground where his forth-coming statue will stand with pride. The same road where most fans of PAFC have to walk on going into and leaving the club; a road which the club can use in their postal address adding a further fitting legacy to this argyle legend.
Or
Option 2 – Having his name attached to a relatively unused square, behind the magistrates court and between 3 pubs and miles away from home park; and having his name dragged through the courts for months creating unneeded and unwanted national media attention for him, his family and that of Plymouth Argyle whom he is associated with.
It's just a hunch and my personal view but I believe, he would probably prefer Option 1, as would his family and indeed Plymouth Argyle including its owner and fans.
Please do not misunderstand this ADR offer; I am not afraid of going to court especially when there are no CPR rules in play and when PCC have made so many mistakes as it is obvious that they are going to lose. So please consider saving time, money and further embarrassment for yourself, PCC, Jack Leslie's family, PAFC and the people of Plymouth.
I am actually trying to save you and PCC from the embarrassment of losing in court and the negative media attention that would no doubt follow. The Legal notice you published in regards to this matter – was a 'nullity' and void. Hence, why nothing after that can have any legal effect and why I will be requesting the court to throw out the application on the basis that the due process has not been followed and therefore the case should be dismissed.
Sure, if the court decides to continue with the case and lists a full hearing; it will again purely be a waste of time and public money and will only lead to the same outcome. Take a leaf from Plymouth University's book as they settled when realising they didn't want to lose to a  law student taking them to court; or don't and find out what it's like to lose against me in court, just like South West Water did 'relatively recently'. (For clarity 2017 – not in 1983)
It is clear that PCC has not even considered re-adopting the old Gilbert lane and renaming it after Jack Leslie, because if it had considered it; I would not be writing this letter to you to even suggest it. Thus, providing even further evidence showing the lack of logic and zero reasoning that has gone behind this rushed, hasty and completely out of context decision.
I have already contacted PAFC about this and the people who raised the money for the Jack Leslie's statue, and I believe it would be logical and fitting for them to be included in any ADR meeting we have; as PCC already decided to involve them without any consultation.
I sincerely hope PCC take up this offer of an all-party meeting and can confirm so to me in writing within the next 3 days of receiving this letter. For the avoidance of any doubt that is 72 hours from 9am on Monday 17th August.
It would be useful to have a response from PCC, before I publish this letter and release it to the public and obviously the media.
I shall also be filing a copy of it with the court and I will ensure that it is put on the record and into the case management files.
I will also be sending copies immediately to the owners and controllers at PAFC, every PCC elected councillor and the 3 MP's that represent the Plymouth area. So that they can all see and understand that this is the best solution and remedy to this matter.
Finally, if PCC does consider and agree with this logical remedy, I would like to see it have 'new signs' put up in Sir John Hawkins Square. Afterall, they have been there for 37 years and hence they have wooden backs and are extremely worn; but then you would already know this having taken them down already – without any notice, debate or court order.
FinalIy, I would also like to see PCC spend money on resurfacing the old gilbert lane, after it has been re-adopted and then renamed in honour of Jack Leslie. I believe maintaining this road would clearly provide sufficient wider public benefit; due to its unique location and use.
I look forward to hearing from you at your earliest convenience,
Yours Sincerely,
Danny Bamping
Entrepreneur & nonpracticing Lawyer
Ref: Sir John Hawkins Square renaming – clarifications of the due process and request for information
FAO
Ralph Bint
Street Naming & Numbering
Finance
Plymouth City Council
Dear Sir,
I am writing to you today in order to get some clarifications in regards to the renaming of Sir John Hawkins Square.
I am one of the 'few' that the court have 'accepted my notice of intention to appeal / objection' – to the court allowing [granting] an order to allow it to rename Sir John Hawkins Square?
In order for me to do this properly and effectively I am writing to you – (and the council itself) to get formal clarification of a few matters – which may assist my research for my appeal.
1 – https://www.plymouth.gov.uk/sites/default/files/StreetNamingNumberingProcess.pdf
The above policy document which concerns these matters – doesn't seem to be dated? So we have no idea when it was first published or it requires updating or reviewing?
Near the end of this document it also states:
"This policy will be reviewed every three years, or if a major change in the process is required, for example, through the introduction of new legislation. Charges will be reviewed on an annual basis, usually for the start of the new financial year on 1st April."
So if this document is undated – or we do not have a confirmed date when it was written or published – how is anyone to know that if it is 'out of date'?
2 – In the linked policy document above it also states:
"A deceased person's name should not be submitted unless the family of that person has been contacted and given their written permission for the name to be proposed."
Obviously, to ensure this has been followed – I don't really want to request these documents in court; as it could lead to an adjournment – which I'm sure is not something either party wants.
Therefore, I would be most grateful if the council are able to supply me with certified copies of the written communication and confirmation between PCC and Jack Leslies family who still live in Plymouth.
Obviously this letter needs to be dated before 17th June 2020 – otherwise it would be considered to be invalid due to the fact the council leader announced the name change at a council meeting on or around that date.
3 – When the council announced it would be seeking an order from Plymouth Magistrates Court – at that meeting The council leader stated:
"We listened to those who found the relatively recent naming of the square after Hawkins offensive and are changing it.
"We've had a number of potential new names put forward and feel that naming the square after Jack Leslie would be very appropriate given his pioneering role as a black player."
Therefore, are the council able to provide me with:
A copy of any objections made to the council's decision when it named the Square 'Sir John Hawkins Square' and anyone who made any official complaint in writing to the council claiming that they found the name of the Square to be 'offensive'?
A copy or list of the 'potential new names' put forward to the council for renaming the square…?
Any evidence of any proper consideration or proper public consultation?
4 – In the renaming procedure in the document linked above it states:
A request to change, alter or correct the name of a street can be made directly to the Council's Street Naming & Numbering Officer, who will summarise the request and then consult the local ward Councillors with details of any recommendations for further action.
Can the council please send me a copy of the request to change the name of Sir John Hawkins Square; and when it was made and received & who it was sent to?
A copy of the receipt given for the £50 would also be welcome.
5 – The same document also states:
"Due consideration will be given to commemorate service men and women with a demonstrable personal connection with Plymouth, who have lost their lives in service of their nation since 1914 (when the borough of Plymouth was formed). With the agreement of the families and provided the names comply with the aforementioned criteria, their names may be proposed for new street naming by way of a respectful memorial to them. Preference will be given to those individuals proposed who have attained a Distinguished Service Award or demonstrated Notable Service."
Can the council please provide me with a list of names given to the council in regards to the above and also any evidence it has to show that THIS was given 'due consideration' – BEFORE it made the decision to name it after a black footballer who played for Plymouth Argyle some 80 years ago?
6 – Just below where it states number 5 above – the same document also states:
"Street names that may be considered or construed as obscene, racist or which would contravene any aspect of the council's equal opportunities policies will not be acceptable."
Therefore, can the council confirm that its decision is purely based on the recent upsurge in #Blacklivesmatters protestors – after George Floyd was unlawfully killed in the USA earlier this year?
Can the council also confirm that it is re-naming Sir John Hawkins Square – to – Jack Leslie Square – purely based on the colour of Jack Leslies Skin? [Black]
Can the council confirm that it does NOT consider renaming of a road in Plymouth purely based on the colour of someone's skin – to be racist?
And finally…
7 – In the Councils Notice attached – which was made public and also put on the road itself over 2 lamp-posts in a waterproof sleeve – it does not correctly state the procedure to 'appeal or object' to this order…and it also does not mention the fact that there is a 'Fee' to appeal an order which has not yet been made – nor that costs could be ordered and the objector be liable for the councils costs.
It seems the wording of this notice was inaccurate, confusing, contradictory, incomplete…and it has the name Ralph Bint on it?
So – can the council confirm and clarify that this legal notice was legally correct when published and it has a 2nd draft of what wording should have been on it – as per the legislation – id like a copy of that too.
Should ANY of the above I have requested – deemed to require an official Foi – request – then please treat this communication as one and such provide me with the information required.
The deadline for this information ideally is this Friday 24th – as I need to submit my full appeal with evidence to the court early next week; in order to meet their deadline.
I shall be applying for a fee remission in this matter and also requesting an exemption certificate from the court to ensure I am not liable for any of the councils costs – as this matter clearly passes their 'public interest criteria' for such matters; even though there are no CPR rules in play.
I am also happy to notify the council now – that it is my full intention to judicially review this matter should the appeal be unsuccessful and the order made.
If you haven't yet done so – my appeal to the court in regards to this matter – can be read here…(below)
I have cc'd in Linda Torney as we spoke about this matter on the phone the other day – in regards to these matters not being held under any CPR rules and she is a senior lawyer in the council and this may require her attention.
I look forward to hearing from you before the end of this week and I am happy to suggest the 2 parties having an ADR meeting now – so that the Council can avoid any further time and costs and any national media attention and public embarrassment when it loses in court with its request.
An acknowledgement of receipt of this email would be most appreciated.
Yours Sincerely
Danny Bamping
Entrepreneur & non practicing Lawyer
Bolton Office 01752 251153
Plymouth Office 01752 251153
Mobile 07831 658492
5 Hillside Ave
Mutley
Plymouth
Devon
PL4 6PR
FAO/ The Court Manager / Head legal Advisor
Plymouth Magistrates Court
St Andrews Street,
Plymouth
Ref: Appeal – re: renaming of Sir John Hawkins Square.  07 / 07 / 2020
Dear Sir/Madam,
Following the notice issued by Plymouth City Council on the 18th June 2020 of their intentions to rename Sir John Hawkins Sq to Jack Leslie Square; I would like to make the court aware of my grievance in regards to this happening and hereby, write to the court to lodge my appeal in writing. The Court, Magistrates and the City Council should be made aware that:
1 – This has ONLY come about due to the death of George Floyd in USA who was Black.
2 – This has led to the resurgence of Black Lives Matter – movement; which is a racist organisation.
3 – Anyone who suggests that another person's life matters more, purely because of the colour of their skin – is racist.
4 – The current local Labour Masonic Plymouth City Council Led administration whom unfortunately control the current majority of elected councillors; have decided to use this left wing, racist organisation to score points with a small minority of intellectually challenged individuals (some of them already vote Labour anyway) and they are using a Black man's death in the USA to justify a name change of a Square in Plymouth? It is complete nonsense and illogical.
5 – There has been ZERO public consultation on if the Square name should be changed (it shouldn't) or if it should – what it should be changed to. Tudor Evans is using BLM as a Political football – and ironically wants to name the Square after a Black footballer who once played for Plymouth Argyle – almost 100 years ago.
Therefore; with the above 5 clear factual points outlined above it is clear that changing Sir John Hawkins Square – to ANY other name than what it already is – would be wrong & inappropriate.
Changing this name; on the back of the farcical demands of a small misguided minority would be setting a very dangerous precedent for the future…and you have to ask yourself the question; where will it end?
Will we now be pulling down Sir Francis Drake's statue and removing his name from everything in and connected to the city…? Because he was also a Pirate as well as a Slave trader…but then neither he nor Sir John Hawkins did anything illegal in the context of their historical times; in fact there are true heroes in every sense. Whereas, Jack Leslie – kicked a ball around a field for the local football team as entertainment; and no 3rd League footballer every played for the national side.
Likewise it is clear that Plymouth Argyle shall be now having a statue put up outside their stadium (Home Park) to honour Jack Leslie and the fact he played football for them ages ago…and of course – because he was black. So why name a historical Square after him.
In conclusion; there is a massive problem with the lack of reasoning behind this Knee Jerk reaction and decision to change the name of Sir John Hawkins Square.
It has been made with absolutely zero public input or consultation and being made too quickly and is without proper reasoning or full consideration.
It is suggesting that we forget our past and our history; which is completely wrong.
It is being made on the back of 1 Black Man's death (in the USA) now being exploited by a Racist global movement – Black Lives Matter.
In turn, this is being supported by the only other political party apart for the BNP to be investigated for Racism – The Labour Party.
These are the same local labour councillors who had one suspended for giving a 'Hail Hitler' sign in the chambers in a full council meeting and another suspended for her past remarks in regards to her being anti-Semitic, but they are both ok now and have fully recovered and one as changed their name and the other claimed mental illnesses and both have been unsuspended and welcomed back; as they need the numbers – before they lose them spectacularly in the local elections next May.
Sir John Hawkins amazing work in preparing our English Royal Navy, to defend the country from the Spanish, for which Sir John Hawkins should be recognised, nationally, but more importantly in his home town. So rather than erasing his name from an inconsequential little hidden historical square, we really also should be having his own statue erected on the Hoe.
If we are going to allow the Labour Council to change this name – because of their false, misguided and racists views and reasoning in regards to our history; then it sets a dangerous precedent for the future. It begs the question why have we just put a statue on the Hoe of a racist, bigot & celebrated her being from our city. It is completely ironic and hypocritical.
In the early 1600's thousands of Plymouth seamen were held as slaves as fleets of corsairs captured them; it wasn't until the 19th Century this slavery of British White men – ended.
Finally, as a non-practicing lawyer and private investigator (and prosecutor) – I was 'the' member of the Public that forced the council to change the name of Howeson Lane in Derriford. This process took over 2 years and was objected to by Mr Charles Howeson's family which delayed it. The road is now called Bracken Lane and you're very welcome.
It is interesting to note that what Mr Howeson did was totally illegal to do in his time; yet nothing that Sir John Hawkins did was illegal in his time. (Note Mr Charles Howeson is a historical, convicted, masonic, sexual offender currently serving 8 years in Dartmoor Prison)
This is precisely why we need to keep Sir John Hawkins Square (no other roads or places in Plymouth are named after him) and no residents live on that square; it's an important historical part of our city, and our culture. Mr Howeson on the other hand should be forgotten about and his name erased from his masonic dealings with this city for the past 30 or more years.
I trust a hearing will be listed in the Magistrates Court in the relatively near future and I want to ensure my views in this letter are expressed to them and they have chance to read and consider it before making their decision. I trust I will receive an acknowledgement and invitation to the hearing.
Yours Sincerely,
Danny Bamping
The Public Detective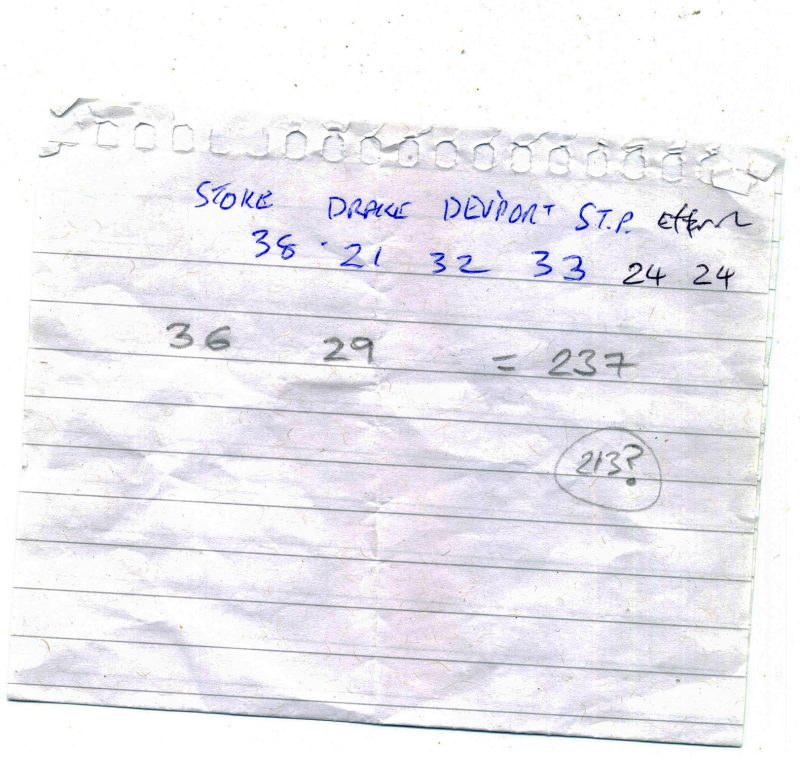 INDEPENDENT CANDIDATE CALLS FOR THE RETURNING OFFICER TO RESIGN                  
FAO
Tracey Lee
CEO & Returning Officer
Plymouth City Council
CC; Ian Bowyer – PCC Leader
Legal Notice
Official Complaint
Request for Information & Letter before action
[
Published & Public
]
Thursday 15th June 2017
Dear Tracey Lee Acting Returning Officer & CEO of PCC,
I am hereby making an official complaint to you and Plymouth City Council in regards to several issues with the Election last week within the Plymouth Sutton & Devonport Constituency.
I am also hereby making an official request [my 2nd one in writing this week and its only Wednesday] to view the information and data in regards to last Thursday's [8th June] Election count.
As you, mentioned at the end of your statement once that you had made [and liable for] yet another catastrophic error.
http://plymouthnewsroom.co.uk/statement-general-election-results-plymouth-sutton-devonport/
I have already sent an email on Monday am to 2 of your colleagues about this – and as yet have had no response…other than an auto-reply email saying that one of them is away and out of the office…I have called their number earlier today – and had no answer.
It also seems that some of my supporters were unable to exercise their democratic vote for me on Thursday 8th June due to your other error with the postal votes and also another informed me that they were denied to be able to vote at the polling station itself. It does not surprise me that now you have the Election Commission and watchdog now investigating this shambles.
http://www.plymouthherald.co.uk/election-watchdog-say-they-will-also-investigate-latest-allegation-of-plymouth-vote-shambles/story-30382687-detail/story.html
It is clear that even our Newly elected Rt Hon Luke Pollard MP does not hold any trust in you or your team…and if we are to hold another election in the near future and I feel the same way.
The fact he spent some of his first day in Parliament discussing your failures with other MP's from various parties who expressed their concerns to him about how the election was run in his constituency, does not bode well.
https://www.youtube.com/watch?v=gtrKwhK9jso
Understandably it is worrying that if this [or any other failure and mistake] occurred 2 years ago when the difference was just 523 votes…in favour of the Conservatives…very concerning considering that this Council is currently run by the 'CONservatives'.
Furthermore I wish to make the following points and observations;
There were 9 hustings for this constituency and I knew / eventually found out about 6 – I sat on the panel for 3 [and was censored on one] I was not made aware of the hustings at all 3…as a candidate I find this undemocratic.
I tried to request the use of a public room to meet the public – yet the phone number I was given did not work and no one replied to my emails about it.
You never introduced yourself to me at any stage; communicated with me in anyway and completely ignored me on the evening of the count? Could have something to do with the fact that a few weeks ago I have made a significant insurance claim against the Plymouth City Council for my unlawful bankruptcy which I am about to have annulled via the high court…perhaps this could be viewed as a 'conflict of interests'?
Perhaps there are now grounds for a fresh claim – I'd certainly be keen to see the insurance details the council has for its coverage of 'completely messing up a general election' – probably under the same policy – 'Professional Indemnity insurance'
It is pure incompetence and an absolute shambles that these mistakes have been made and it casts doubts on your ability to manage the election process fairly and democratically [and mathematically] in the future.
So, Polling station cards mistakenly sent to postal voters, then 1,500 postal votes lost, then voters turned away, then removing 330 from the register itself…then not including a full wards count into the final return…and then announcing a FALSE final return…I don't think you could have got much more wrong.
I knew on the night that the final count was wrong; the moment you announced and published the final numbers I knew they were wrong…[see the attached scan of my tally] As you can see from my 8 numbers given by your colleagues on the evening from each of the 8 different wards within the constituency. This proves that I can add up – but your team and spreadsheets and computers cannot. I did feel like tapping you on the shoulder on stage – but felt considering the circumstances you'd probably think I was extracting the urine. Just one look at the turnout figure surely should have made someone question the final numbers – it was that obvious.
The complete cock-up with the 6,500 votes missing from final result has been acknowledged as a cataclysmic error and I can only agree; but it was the just the wet icing on a very badly burnt; tasteless and horrible cake.
At least one thing is now certain from this Election – we have a much better representative in Parliament than we previously did – so in terms of positives that is the 1 we can take from this – and the fact he now has a significant margin and almost a thousand more than was thought on the night. [morning]
I suggest that under the circumstances; with everything consider and as a member of the public [and a Parliamentary Independent Candidate] I hereby ask that you should resign from your CEO role as you are clearly a liability.
From a legal perspective I am now considering my options; although this is not something I want to waste my time doing [but will if required] although as I am reasonable, I would be willing to perhaps consider settling out of the court with the council for a 'medium' 3 figure financial sum as an immediate full and final remedy to this matter.
Therefore, treat this legal notice as a letter before action [as per the CPR rules]; as being a candidate for this farce of an election and with the above mentioned points considered including the incorrect return with was published and announced by yourself has directly caused myself a lot of alarm & distress.
I also expect Councillors;  John Riley UKIP [Democracy & Governance] & Patrick Nicholson [allegedly in charge of Elections] to seriously consider their positions and perhaps resign and allow someone more competent to fill these roles.
Can you also confirm for me that you will NOT be receiving any sort of 'bonus payment' or 'extra money's' within your obscene six figure public pay for overseeing a general election as the acting returning officer?
Clearly with all these serious mistakes, which you are liable for – you should not be entitled to any 'bonus' and you should resign with immediate effect.
I have ensured I have cc'd in DC Paul Manifield whom I shall be emailing directly to ensure that there has been no breach [by yourself or and of your staff] in regards to the legislation which governs these matters as that would clearly then become a potential criminal matter which in some instances carries a heavy fine.
In particularly;
http://www.legislation.gov.uk/ukpga/2006/22/section/40 – Electoral Administration Act 2006
http://www.legislation.gov.uk/ukpga/1983/2/section/63 – The Representation of the Peoples Act 1983
http://www.legislation.gov.uk/ukpga/2000/41/contents – Political Parties, Elections and Referendums Act 2000
You may wish to seek independent legal advice in regards to these matters; once you have resigned.
I look forward to hearing back from either you or your colleagues in regards to this legal notice,
Yours Sincerely,
Danny Bamping
Non-practicing lawyer; Private Investigator& Prosecutor
Independent Parliamentary Candidate Plymouth Sutton & Devonport
Co-founder of the No Party Movement taking the Party out of Politics
danny@noparty.co              07831658492                      01752251153
PS – During my brief and very limited Independent Campaign in this constituency I made a video on Accountability in Public Office…it's worth the watch…and very…relevant.
                                                   Plymouth City Council – some facts and figures
Plymouth City Council's 'LOBO' loans
Plymouth City Council currently has 14 active LOBO loans totalling £100million [as you can imagine this takes up a chunk of your Council Tax payments] Interest rates on the loans vary from 3.65 per cent to 4.82 per cent, and most of the loan agreements run for between 60 and 70 years.
It is understood that councils face expensive exit fees if they wish to get out of the loans.
Eurohypo Europaische Hypothekenbank SA                   Barclays Bank                                                Barclays Bank
£11million   Period: 60 years                                             £8million    Period: 70 years                         £5million Period: 60 years
Interest rate: 4.49%                                                          Interest rate: 4.55%                                     Interest rate: 3.96 per cent
Dexia                                                                                Barclays Bank                                                 Danske Bank
£5million   Period: 60 years                                              £5million    Period: 60 years                            £19million Period: 25 years
Interest rate: 4.20%                                                          Interest rate: 4.77%                                         Interest rate: 5%
Dexia                                                                                Dexia                                                               Dexia
£5million   Period: 70 years                                              £5million    Period: 70 years                            £5million  Period: 70 years
Interest rate: 4.20%                                                          Interest rate: 4.22%                                         Interest rate: 4.25%
Dexia                                                                                Dexia                                                                Dexia
£5million   Period: 70 years                                              £5million   Period: 70 years                              £5million Period: 70 years
Interest rate: 4.04%                                                          Interest rate: 3.97%                                          Interest rate: 3.65%
Dresdner                                                                          Barclays Bank
£10million Period: 60 years                                              £7million 60 years
Interest rate: 4.82%                                                          Interest rate: 4.65%
Source;
http://www.plymouthherald.co.uk/plymouth-council-paying-100million-lobo-loans/story-26899623-detail/story.html
More coming soon over the next few weeks…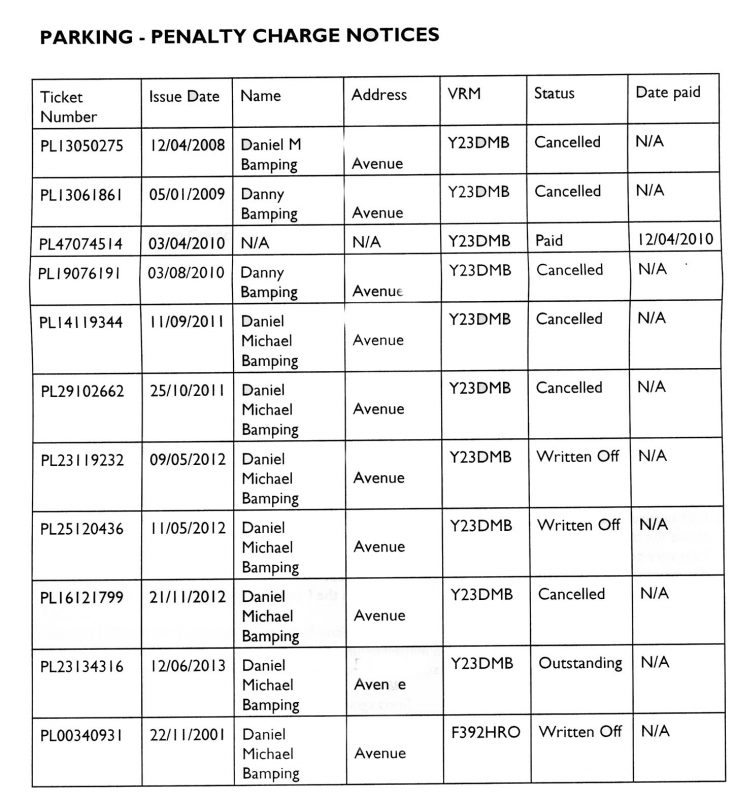 In the meantime here's my parking ticket record with the council.
[I didn't pay the 3rd one down – my ex-partner did at the time – without my knowledge – with her money…]
Plymouth City Council's – Unlawful enforcement procedures for Council Tax collection
Plymouth City Council's – potential negligence with the development at the Royal Eye Infirmary
Plymouth City Council's – Residents Permit Parking unworkable & unenforceable
Plymouth City Council's – Dodgy deals with masons…
Plymouth City Council's – Strategic Partners…
Plymouth City Council's – Road Works, Transport Links & Pot Holes
Plymouth City Council's – Their costs to make me 'unlawfully' bankrupt in 2012