Ref: Sir John Hawkins Square renaming – clarifications of the due process and request for information
FAO
Ralph Bint
Street Naming & Numbering
Finance
Plymouth City Council
Dear Sir,
I am writing to you today in order to get some clarifications in regards to the renaming of Sir John Hawkins Square.
I am one of the 'few' that the court have 'accepted my notice of intention to appeal / objection' – to the court allowing [granting] an order to allow it to rename Sir John Hawkins Square?
In order for me to do this properly and effectively I am writing to you – (and the council itself) to get formal clarification of a few matters – which may assist my research for my appeal.
1 – https://www.plymouth.gov.uk/sites/default/files/StreetNamingNumberingProcess.pdf
The above policy document which concerns these matters – doesn't seem to be dated? So we have no idea when it was first published or it requires updating or reviewing?
Near the end of this document it also states:
"This policy will be reviewed every three years, or if a major change in the process is required, for example, through the introduction of new legislation. Charges will be reviewed on an annual basis, usually for the start of the new financial year on 1st April."
So if this document is undated – or we do not have a confirmed date when it was written or published – how is anyone to know that if it is 'out of date'?
2 – In the linked policy document above it also states:
"A deceased person's name should not be submitted unless the family of that person has been contacted and given their written permission for the name to be proposed."
Obviously, to ensure this has been followed – I don't really want to request these documents in court; as it could lead to an adjournment – which I'm sure is not something either party wants.
Therefore, I would be most grateful if the council are able to supply me with certified copies of the written communication and confirmation between PCC and Jack Leslies family who still live in Plymouth.
Obviously this letter needs to be dated before 17th June 2020 – otherwise it would be considered to be invalid due to the fact the council leader announced the name change at a council meeting on or around that date.
3 – When the council announced it would be seeking an order from Plymouth Magistrates Court – at that meeting The council leader stated:
"We listened to those who found the relatively recent naming of the square after Hawkins offensive and are changing it.
"We've had a number of potential new names put forward and feel that naming the square after Jack Leslie would be very appropriate given his pioneering role as a black player."
Therefore, are the council able to provide me with:
A copy of any objections made to the council's decision when it named the Square 'Sir John Hawkins Square' and anyone who made any official complaint in writing to the council claiming that they found the name of the Square to be 'offensive'?
A copy or list of the 'potential new names' put forward to the council for renaming the square…?
Any evidence of any proper consideration or proper public consultation?
4 – In the renaming procedure in the document linked above it states:
A request to change, alter or correct the name of a street can be made directly to the Council's Street Naming & Numbering Officer, who will summarise the request and then consult the local ward Councillors with details of any recommendations for further action.
Can the council please send me a copy of the request to change the name of Sir John Hawkins Square; and when it was made and received & who it was sent to?
A copy of the receipt given for the £50 would also be welcome.
5 – The same document also states:
"Due consideration will be given to commemorate service men and women with a demonstrable personal connection with Plymouth, who have lost their lives in service of their nation since 1914 (when the borough of Plymouth was formed). With the agreement of the families and provided the names comply with the aforementioned criteria, their names may be proposed for new street naming by way of a respectful memorial to them. Preference will be given to those individuals proposed who have attained a Distinguished Service Award or demonstrated Notable Service."
Can the council please provide me with a list of names given to the council in regards to the above and also any evidence it has to show that THIS was given 'due consideration' – BEFORE it made the decision to name it after a black footballer who played for Plymouth Argyle some 80 years ago?
6 – Just below where it states number 5 above – the same document also states:
"Street names that may be considered or construed as obscene, racist or which would contravene any aspect of the council's equal opportunities policies will not be acceptable."
Therefore, can the council confirm that its decision is purely based on the recent upsurge in #Blacklivesmatters protestors – after George Floyd was unlawfully killed in the USA earlier this year?
Can the council also confirm that it is re-naming Sir John Hawkins Square – to – Jack Leslie Square – purely based on the colour of Jack Leslies Skin? [Black]
Can the council confirm that it does NOT consider renaming of a road in Plymouth purely based on the colour of someone's skin – to be racist?
And finally…
7 – In the Councils Notice attached – which was made public and also put on the road itself over 2 lamp-posts in a waterproof sleeve – it does not correctly state the procedure to 'appeal or object' to this order…and it also does not mention the fact that there is a 'Fee' to appeal an order which has not yet been made – nor that costs could be ordered and the objector be liable for the councils costs.
It seems the wording of this notice was inaccurate, confusing, contradictory, incomplete…and it has the name Ralph Bint on it?
So – can the council confirm and clarify that this legal notice was legally correct when published and it has a 2nd draft of what wording should have been on it – as per the legislation – id like a copy of that too.
Should ANY of the above I have requested – deemed to require an official Foi – request – then please treat this communication as one and such provide me with the information required.
The deadline for this information ideally is this Friday 24th – as I need to submit my full appeal with evidence to the court early next week; in order to meet their deadline.
I shall be applying for a fee remission in this matter and also requesting an exemption certificate from the court to ensure I am not liable for any of the councils costs – as this matter clearly passes their 'public interest criteria' for such matters; even though there are no CPR rules in play.
I am also happy to notify the council now – that it is my full intention to judicially review this matter should the appeal be unsuccessful and the order made.
If you haven't yet done so – my appeal to the court in regards to this matter – can be read here…(below)
I have cc'd in Linda Torney as we spoke about this matter on the phone the other day – in regards to these matters not being held under any CPR rules and she is a senior lawyer in the council and this may require her attention.
I look forward to hearing from you before the end of this week and I am happy to suggest the 2 parties having an ADR meeting now – so that the Council can avoid any further time and costs and any national media attention and public embarrassment when it loses in court with its request.
An acknowledgement of receipt of this email would be most appreciated.
Yours Sincerely
Danny Bamping
Entrepreneur & non practicing Lawyer
Bolton Office 01752 251153
Plymouth Office 01752 251153
Mobile 07831 658492
5 Hillside Ave
Mutley
Plymouth
Devon
PL4 6PR
FAO/ The Court Manager / Head legal Advisor
Plymouth Magistrates Court
St Andrews Street,
Plymouth
Ref: Appeal – re: renaming of Sir John Hawkins Square.  07 / 07 / 2020
Dear Sir/Madam,
Following the notice issued by Plymouth City Council on the 18th June 2020 of their intentions to rename Sir John Hawkins Sq to Jack Leslie Square; I would like to make the court aware of my grievance in regards to this happening and hereby, write to the court to lodge my appeal in writing. The Court, Magistrates and the City Council should be made aware that:
1 – This has ONLY come about due to the death of George Floyd in USA who was Black.
2 – This has led to the resurgence of Black Lives Matter – movement; which is a racist organisation.
3 – Anyone who suggests that another person's life matters more, purely because of the colour of their skin – is racist.
4 – The current local Labour Masonic Plymouth City Council Led administration whom unfortunately control the current majority of elected councillors; have decided to use this left wing, racist organisation to score points with a small minority of intellectually challenged individuals (some of them already vote Labour anyway) and they are using a Black man's death in the USA to justify a name change of a Square in Plymouth? It is complete nonsense and illogical.
5 – There has been ZERO public consultation on if the Square name should be changed (it shouldn't) or if it should – what it should be changed to. Tudor Evans is using BLM as a Political football – and ironically wants to name the Square after a Black footballer who once played for Plymouth Argyle – almost 100 years ago.
Therefore; with the above 5 clear factual points outlined above it is clear that changing Sir John Hawkins Square – to ANY other name than what it already is – would be wrong & inappropriate.
Changing this name; on the back of the farcical demands of a small misguided minority would be setting a very dangerous precedent for the future…and you have to ask yourself the question; where will it end?
Will we now be pulling down Sir Francis Drake's statue and removing his name from everything in and connected to the city…? Because he was also a Pirate as well as a Slave trader…but then neither he nor Sir John Hawkins did anything illegal in the context of their historical times; in fact there are true heroes in every sense. Whereas, Jack Leslie – kicked a ball around a field for the local football team as entertainment; and no 3rd League footballer every played for the national side.
Likewise it is clear that Plymouth Argyle shall be now having a statue put up outside their stadium (Home Park) to honour Jack Leslie and the fact he played football for them ages ago…and of course – because he was black. So why name a historical Square after him.
In conclusion; there is a massive problem with the lack of reasoning behind this Knee Jerk reaction and decision to change the name of Sir John Hawkins Square.
It has been made with absolutely zero public input or consultation and being made too quickly and is without proper reasoning or full consideration.
It is suggesting that we forget our past and our history; which is completely wrong.
It is being made on the back of 1 Black Man's death (in the USA) now being exploited by a Racist global movement – Black Lives Matter.
In turn, this is being supported by the only other political party apart for the BNP to be investigated for Racism – The Labour Party.
These are the same local labour councillors who had one suspended for giving a 'Hail Hitler' sign in the chambers in a full council meeting and another suspended for her past remarks in regards to her being anti-Semitic, but they are both ok now and have fully recovered and one as changed their name and the other claimed mental illnesses and both have been unsuspended and welcomed back; as they need the numbers – before they lose them spectacularly in the local elections next May.
Sir John Hawkins amazing work in preparing our English Royal Navy, to defend the country from the Spanish, for which Sir John Hawkins should be recognised, nationally, but more importantly in his home town. So rather than erasing his name from an inconsequential little hidden historical square, we really also should be having his own statue erected on the Hoe.
If we are going to allow the Labour Council to change this name – because of their false, misguided and racists views and reasoning in regards to our history; then it sets a dangerous precedent for the future. It begs the question why have we just put a statue on the Hoe of a racist, bigot & celebrated her being from our city. It is completely ironic and hypocritical.
In the early 1600's thousands of Plymouth seamen were held as slaves as fleets of corsairs captured them; it wasn't until the 19th Century this slavery of British White men – ended.
Finally, as a non-practicing lawyer and private investigator (and prosecutor) – I was 'the' member of the Public that forced the council to change the name of Howeson Lane in Derriford. This process took over 2 years and was objected to by Mr Charles Howeson's family which delayed it. The road is now called Bracken Lane and you're very welcome.
It is interesting to note that what Mr Howeson did was totally illegal to do in his time; yet nothing that Sir John Hawkins did was illegal in his time. (Note Mr Charles Howeson is a historical, convicted, masonic, sexual offender currently serving 8 years in Dartmoor Prison)
This is precisely why we need to keep Sir John Hawkins Square (no other roads or places in Plymouth are named after him) and no residents live on that square; it's an important historical part of our city, and our culture. Mr Howeson on the other hand should be forgotten about and his name erased from his masonic dealings with this city for the past 30 or more years.
I trust a hearing will be listed in the Magistrates Court in the relatively near future and I want to ensure my views in this letter are expressed to them and they have chance to read and consider it before making their decision. I trust I will receive an acknowledgement and invitation to the hearing.
Yours Sincerely,
Danny Bamping
The Public Detective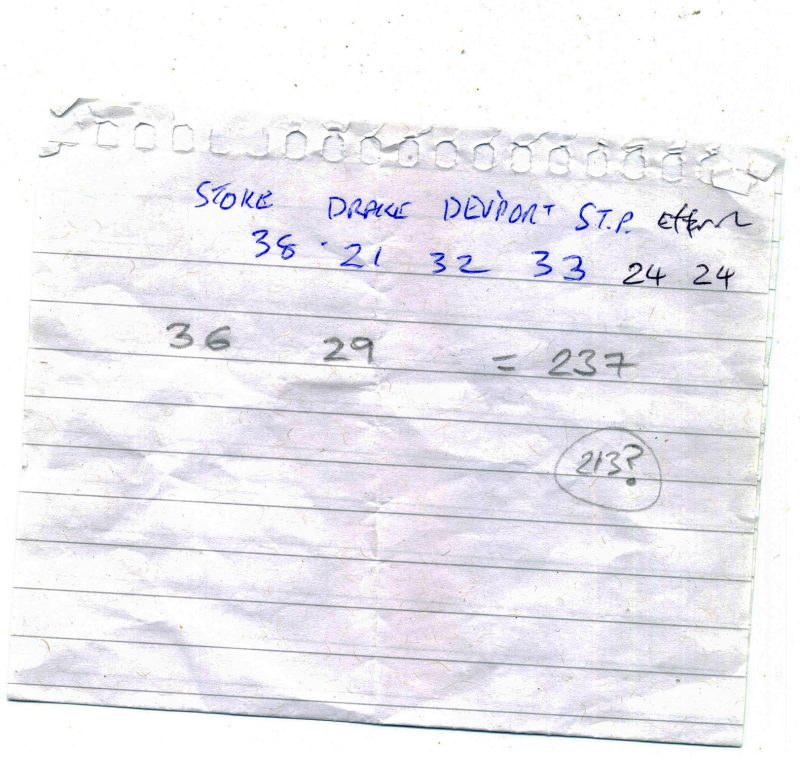 INDEPENDENT CANDIDATE CALLS FOR THE RETURNING OFFICER TO RESIGN                  
FAO
Tracey Lee
CEO & Returning Officer
Plymouth City Council
CC; Ian Bowyer – PCC Leader
Legal Notice
Official Complaint
Request for Information & Letter before action
[
Published & Public
]
Thursday 15th June 2017
Dear Tracey Lee Acting Returning Officer & CEO of PCC,
I am hereby making an official complaint to you and Plymouth City Council in regards to several issues with the Election last week within the Plymouth Sutton & Devonport Constituency.
I am also hereby making an official request [my 2nd one in writing this week and its only Wednesday] to view the information and data in regards to last Thursday's [8th June] Election count.
As you, mentioned at the end of your statement once that you had made [and liable for] yet another catastrophic error.
http://plymouthnewsroom.co.uk/statement-general-election-results-plymouth-sutton-devonport/
I have already sent an email on Monday am to 2 of your colleagues about this – and as yet have had no response…other than an auto-reply email saying that one of them is away and out of the office…I have called their number earlier today – and had no answer.
It also seems that some of my supporters were unable to exercise their democratic vote for me on Thursday 8th June due to your other error with the postal votes and also another informed me that they were denied to be able to vote at the polling station itself. It does not surprise me that now you have the Election Commission and watchdog now investigating this shambles.
http://www.plymouthherald.co.uk/election-watchdog-say-they-will-also-investigate-latest-allegation-of-plymouth-vote-shambles/story-30382687-detail/story.html
It is clear that even our Newly elected Rt Hon Luke Pollard MP does not hold any trust in you or your team…and if we are to hold another election in the near future and I feel the same way.
The fact he spent some of his first day in Parliament discussing your failures with other MP's from various parties who expressed their concerns to him about how the election was run in his constituency, does not bode well.
https://www.youtube.com/watch?v=gtrKwhK9jso
Understandably it is worrying that if this [or any other failure and mistake] occurred 2 years ago when the difference was just 523 votes…in favour of the Conservatives…very concerning considering that this Council is currently run by the 'CONservatives'.
Furthermore I wish to make the following points and observations;
There were 9 hustings for this constituency and I knew / eventually found out about 6 – I sat on the panel for 3 [and was censored on one] I was not made aware of the hustings at all 3…as a candidate I find this undemocratic.
I tried to request the use of a public room to meet the public – yet the phone number I was given did not work and no one replied to my emails about it.
You never introduced yourself to me at any stage; communicated with me in anyway and completely ignored me on the evening of the count? Could have something to do with the fact that a few weeks ago I have made a significant insurance claim against the Plymouth City Council for my unlawful bankruptcy which I am about to have annulled via the high court…perhaps this could be viewed as a 'conflict of interests'?
Perhaps there are now grounds for a fresh claim – I'd certainly be keen to see the insurance details the council has for its coverage of 'completely messing up a general election' – probably under the same policy – 'Professional Indemnity insurance'
It is pure incompetence and an absolute shambles that these mistakes have been made and it casts doubts on your ability to manage the election process fairly and democratically [and mathematically] in the future.
So, Polling station cards mistakenly sent to postal voters, then 1,500 postal votes lost, then voters turned away, then removing 330 from the register itself…then not including a full wards count into the final return…and then announcing a FALSE final return…I don't think you could have got much more wrong.
I knew on the night that the final count was wrong; the moment you announced and published the final numbers I knew they were wrong…[see the attached scan of my tally] As you can see from my 8 numbers given by your colleagues on the evening from each of the 8 different wards within the constituency. This proves that I can add up – but your team and spreadsheets and computers cannot. I did feel like tapping you on the shoulder on stage – but felt considering the circumstances you'd probably think I was extracting the urine. Just one look at the turnout figure surely should have made someone question the final numbers – it was that obvious.
The complete cock-up with the 6,500 votes missing from final result has been acknowledged as a cataclysmic error and I can only agree; but it was the just the wet icing on a very badly burnt; tasteless and horrible cake.
At least one thing is now certain from this Election – we have a much better representative in Parliament than we previously did – so in terms of positives that is the 1 we can take from this – and the fact he now has a significant margin and almost a thousand more than was thought on the night. [morning]
I suggest that under the circumstances; with everything consider and as a member of the public [and a Parliamentary Independent Candidate] I hereby ask that you should resign from your CEO role as you are clearly a liability.
From a legal perspective I am now considering my options; although this is not something I want to waste my time doing [but will if required] although as I am reasonable, I would be willing to perhaps consider settling out of the court with the council for a 'medium' 3 figure financial sum as an immediate full and final remedy to this matter.
Therefore, treat this legal notice as a letter before action [as per the CPR rules]; as being a candidate for this farce of an election and with the above mentioned points considered including the incorrect return with was published and announced by yourself has directly caused myself a lot of alarm & distress.
I also expect Councillors;  John Riley UKIP [Democracy & Governance] & Patrick Nicholson [allegedly in charge of Elections] to seriously consider their positions and perhaps resign and allow someone more competent to fill these roles.
Can you also confirm for me that you will NOT be receiving any sort of 'bonus payment' or 'extra money's' within your obscene six figure public pay for overseeing a general election as the acting returning officer?
Clearly with all these serious mistakes, which you are liable for – you should not be entitled to any 'bonus' and you should resign with immediate effect.
I have ensured I have cc'd in DC Paul Manifield whom I shall be emailing directly to ensure that there has been no breach [by yourself or and of your staff] in regards to the legislation which governs these matters as that would clearly then become a potential criminal matter which in some instances carries a heavy fine.
In particularly;
http://www.legislation.gov.uk/ukpga/2006/22/section/40 – Electoral Administration Act 2006
http://www.legislation.gov.uk/ukpga/1983/2/section/63 – The Representation of the Peoples Act 1983
http://www.legislation.gov.uk/ukpga/2000/41/contents – Political Parties, Elections and Referendums Act 2000
You may wish to seek independent legal advice in regards to these matters; once you have resigned.
I look forward to hearing back from either you or your colleagues in regards to this legal notice,
Yours Sincerely,
Danny Bamping
Non-practicing lawyer; Private Investigator& Prosecutor
Independent Parliamentary Candidate Plymouth Sutton & Devonport
Co-founder of the No Party Movement taking the Party out of Politics
[email protected]              07831658492                      01752251153
PS – During my brief and very limited Independent Campaign in this constituency I made a video on Accountability in Public Office…it's worth the watch…and very…relevant.
                                                   Plymouth City Council – some facts and figures
Plymouth City Council's 'LOBO' loans
Plymouth City Council currently has 14 active LOBO loans totalling £100million [as you can imagine this takes up a chunk of your Council Tax payments] Interest rates on the loans vary from 3.65 per cent to 4.82 per cent, and most of the loan agreements run for between 60 and 70 years.
It is understood that councils face expensive exit fees if they wish to get out of the loans.
Eurohypo Europaische Hypothekenbank SA                   Barclays Bank                                                Barclays Bank
£11million   Period: 60 years                                             £8million    Period: 70 years                         £5million Period: 60 years
Interest rate: 4.49%                                                          Interest rate: 4.55%                                     Interest rate: 3.96 per cent
Dexia                                                                                Barclays Bank                                                 Danske Bank
£5million   Period: 60 years                                              £5million    Period: 60 years                            £19million Period: 25 years
Interest rate: 4.20%                                                          Interest rate: 4.77%                                         Interest rate: 5%
Dexia                                                                                Dexia                                                               Dexia
£5million   Period: 70 years                                              £5million    Period: 70 years                            £5million  Period: 70 years
Interest rate: 4.20%                                                          Interest rate: 4.22%                                         Interest rate: 4.25%
Dexia                                                                                Dexia                                                                Dexia
£5million   Period: 70 years                                              £5million   Period: 70 years                              £5million Period: 70 years
Interest rate: 4.04%                                                          Interest rate: 3.97%                                          Interest rate: 3.65%
Dresdner                                                                          Barclays Bank
£10million Period: 60 years                                              £7million 60 years
Interest rate: 4.82%                                                          Interest rate: 4.65%
Source;
http://www.plymouthherald.co.uk/plymouth-council-paying-100million-lobo-loans/story-26899623-detail/story.html
More coming soon over the next few weeks…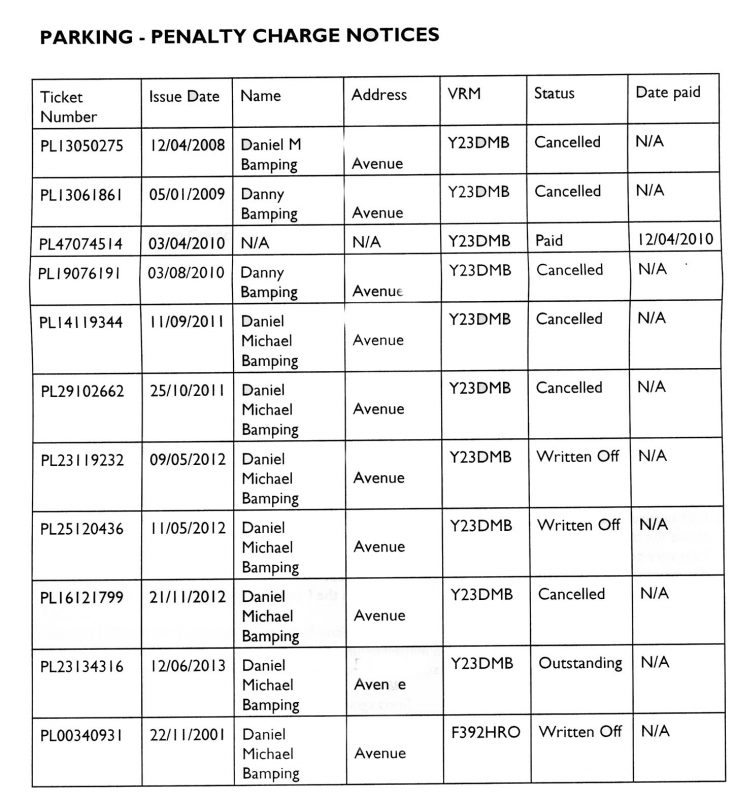 In the meantime here's my parking ticket record with the council.
[I didn't pay the 3rd one down – my ex-partner did at the time – without my knowledge – with her money…]
Plymouth City Council's – Unlawful enforcement procedures for Council Tax collection
Plymouth City Council's – potential negligence with the development at the Royal Eye Infirmary
Plymouth City Council's – Residents Permit Parking unworkable & unenforceable
Plymouth City Council's – Dodgy deals with masons…
Plymouth City Council's – Strategic Partners…
Plymouth City Council's – Road Works, Transport Links & Pot Holes
Plymouth City Council's – Their costs to make me 'unlawfully' bankrupt in 2012